Como aumentar a fidelização do cliente
Publicado em 16.06.22, a JCK em parceria com a SYTE, estiveram juntas na feira de Las Vegas – maior evento anual de comercio de joias dos EUA, e debateram estratégias de varejo para 2022-2023. Forneceram dicas bem interessantes para aumentar a receita no comercio eletrônico, além de melhorar a fidelidade à marca.
3 Dicas de varejo
1- Programas de AI e AR (inteligência artificial e realidade aumentada) no comercio eletrônico são fundamentais para que os clientes possam encontrar rapidamente o que procuram, examinar com ferramentas 3D e comprar com facilidade os produtos.
2- Pesquisa online com o uso de inteligência artificial (AI). A jornada online do cliente é mais importante do que nunca para uma melhor conexão com os compradores, e para a recomendação de produtos precisos e relevantes. O cliente não quer perder tempo.
3- Aumento do valor de vida útil do cliente com a marca. Atendimento personalizado de excelência durante as jornadas de comercio eletrônico como impulsionador de fidelidade e de compras frequentes. Os consumidores esperam experiências personalizadas parecidas com o alto nível de serviço e dedicação encontradas nas lojas físicas. A criação de estratégias omnicanal para que as marcas possam combinar experiências offline e online, personalizando o atendimento.
Por: Monica Lerina
>>>>>>>>>>>>>>>>>>>>>>>>>>>>>>>>>>> Abaixo leia a matéria na integra: <<<<<<<<<<<<<<<<<<<<<<<<<<<<<<<<<<
3 Takeaways for Retailers and Brands from JCK 2022
Keep these three highlights from Syte's JCK panel talk in mind as you plan your business and marketing strategies for the upcoming year and beyond.
Syte TeamJune 16, 2022
4 Min Read
With 1,600+ exhibiting vendors from around the globe, 15,000+ retailers, and 9,400+ retail stores in attendance, JCK is North America's largest jewelry annual trade event. 2022 marked the year that JCK went back to operating at full capacity since the pandemic and subsequent cancellation of the 2020 edition and extremely limited attendance in 2021.
There was a lot of excitement amongst buyers, sellers, the media, and trade visitors, who were all able to meet face to face for the first time in over two years. Many of the biggest names in the industry attended the show, and booths were flowing with spectacular collections, designs, sparkling diamonds, gemstones, and watches.
The Syte team was on the ground in Las Vegas, Nevada for JCK 2022, with CEO Vered Levy-Ron taking part in a panel discussion focused on the topic of "Retail Innovation – How to Increase Customer Loyalty." Other panel participants included Kenect and Extend with Jennifer Shaheen, the eMarketing and Technology Therapist, moderating the talk.
The Tech Essentials and Retail Innovations areas were busier than ever, offering retailers and brands real and proven solutions to enhance their operations, increase revenue, and improve brand loyalty, which are crucial for sustainable growth — and even more so during challenging times.
Three key eCommerce takeaways we noted for many jewelry retailers and brands who attended the panel talk and visited Syte's booth include:
1. AI and AR Technologies Are on the Rise
More and more retailers and D2C brands are embracing AI and AR technologies and embedding them into their eCommerce operations. Building a trustworthy customer experience is linked to the use of advanced eCommerce technology that allows customers to find, examine, and easily compare products.
Tools like 3D imagery, interactive UGC galleries, virtual try-on tools, and camera search have helped early adopters increase average order value by nearly 10% and boost overall conversion by more than 500%. Syte was excited to see the interest and shift towards these technologies by jewelry executives who met with our team and experienced visual AI technology firsthand.
2. The Online Search Experience Is Pivotal
Attendees at Vered's JCK panel talk and visitors to Syte's booth confirmed the importance of the online journey more than ever. Retailers and brands understand the crucial role that search tools play in connecting with online shoppers and recommending hyper-relevant and accurate products. After all, if buyers can't find what they're looking for easily, they'll leave a website before experiencing it in its full capacity.
Jewelry, specifically, has an entire language of descriptive words and nuances that the average person may not know. As fine jewelry is experienced visually and not bought every day, visual AI is all the more important to boost discoverability online and ensure that shoppers find what they're looking for. Once shoppers upload an image they've saved, they are shown similar items and can narrow down their choices — all without words.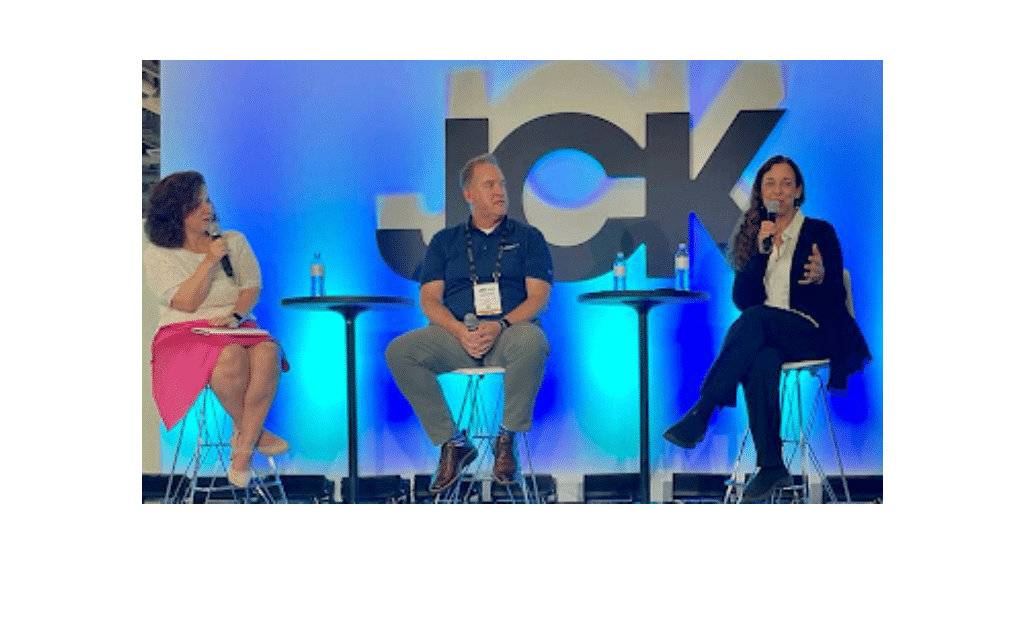 3. Personalized eCommerce Journeys Are the Future
In the jewelry world, customer service is a major driver of loyalty and repeat purchases. Consumers today demand personalized eCommerce experiences which parallel the premium level of service and dedication found in physical stores.
This feeds directly into making consumers happy and creating omnichannel strategies that stick. Retailers and brands are becoming increasingly interested in finding ways to blend offline and online experiences, and one of the best ways to achieve this is through personalization. In the long run, this encourages trust and brand loyalty and increases customer lifetime value.
Fonte: https://www.syte.ai/blog/ecommerce-trends/3-key-takeaways-jck-2022/